Today I am very excited to share with you, a new development in easyBM (now Bookmarkee) online bookmarking service. Now you can access your favorite links from your iPhone or any other Smartphone with GPRS, Edge or 3G. You will get all your groups and be able to see the individual links therein for the good old 1-click access to the sites.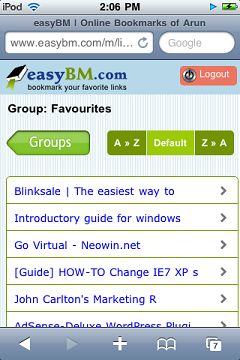 Have you ever wanted to visit some of your favorite sites with a mobile phone because you needed to check that important thing? Or as it happened to me recently, access your server control panel while in a meeting? I am sure you have felt the pain of having to remember that cryptic URL and type it on that cramped keyboard. Missed your desktop because you could just open your Bookmarkee bookmarks page and clicked once to open the site? Now you can relax.
What's more – you don't have to remember a new URL for mobile access. Just visit your regular URL like www.bookmarkee.com/username and the system auto-detects that you are visiting the site from a mobile and redirects you to the special mobile version of the site.
I am sincerely hoping this will make your life a little simpler. If you enjoy the new feature or encounter a bug, please do write to us from the feedback section (only available in the desktop version – you don't want to type all that in your mobile).